If you follow this blog, you know I'm a big fan of the band OK Go and their awesomely creative music videos. A few days ago, they released their newest video—for their song Obsession—and like most of their other videos, it's impressive. Click on the image to go to YouTube and watch it:
My criteria for ranking their videos back then included creativity, engineering, concept, its connection to the song, and my opinion of the song itself.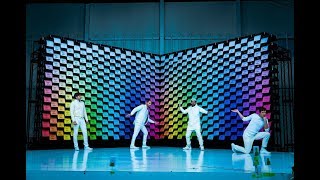 It deservedly and undeniably gets super high marks for the first three criteria. This took an immense amount of planning, and I have no idea how they coordinated all those printers and what they were printing to create the images they showed. And I love the build in the imagery. At first, it's simple patterns with singularly colored papers. Then the patterns take on multiple colors and the band members' shadows. Then it gets even cooler with geometric shapes being tossed to each other and into a vortex, for lack of a better word. Finally, there are full color photographic images with the band flying in front of them. Really amazing, and it definitely took some obsessive minds to make it so perfect.
However, I think it falls short in the latter categories. It's not among my favorite songs from them. And other than the obsession needed to get the papers in the right orders and the printers releasing them at the right times, the connection between the song and video isn't as strong as some of their more recent work. But that's just my opinion, ok?
Like I did when they released their last video, I revised (and expanded) the Top 10 list that I posted back in February 2016 and included links to the videos. Because it's my blog and I obsessively do what I want, I'll do this again whenever they release another video!
#22 – You're So Damn Hot
#21 – Get Over It
#20 – Don't Ask Me
#19 – Back From Kathmandu
#18 – A Million Ways
#17 – I'm Not Through
#16 – Muppet Show Theme
#15 – Skyscrapers
#14 – Do What You Want
#13 – Last Leaf
#12 – WTF
#11 – White Knuckles
#10 – Obsession
#9 – I Won't Let You Down
#8 – The Writing's on the Wall
#7 – End Love
#6 – Here It Goes Again
#5 – This Too Shall Pass
#4 – The One Moment
#3 – Needing/Getting
#2 – All Is Not Lost
Watch them all! OK? Go!