It's the first day of the month, so it's time for a Top 10 list! Being December, my daughters convinced me that this month's list needed to be Christmas-themed. I debated several possible lists, and I won't mention the ones I passed aside because I can use them in future Decembers. You can see the title of the list on this post, so let's just get to it. If you haven't seen any of these, there may be SPOILERS AHEAD! YOU HAVE BEEN WARNED!
(Images are from various other places on the Web.)
#10 – Rudolph the Red-Nosed Reindeer
There are a lot of wonderful things about this Rankin/Bass special. It's easy to feel Rudolph's pain. Herbie, the elf who dreams of becoming a dentist is a breakout character. So is Yukon Cornelius the prospector, who has my favorite line in the special. After comparing the thickness of the fog to peanut butter, Herbie corrects him with pea soup, and Yukon shoots back: "You eat what you like; I'll eat what I like!" Bumble the Abominable Snowman is a scary villain with a great bit of redemption at the end. So why so low on the list? Thanks to the song, we expect the other reindeer to tease poor Rudolph, but Santa too? He should be held to the highest standard! He treats Rudolph badly until the end when he needs headlights for the sleigh. Put yourself on your own naughty list, Santa!
#9 – Gumby's Christmas Special
Okay, okay, this isn't a full-length special. It's just a classic skit from Saturday Night Live. Wouldn't it be an amazing special, though? Just imagining Eddie Murphy reprising the role for a half-hour—something not so much for the kids—is hysterical. "Merry Christmas, dammit!" is a great catch phrase, and admit it—we all feel like saying it when the holidays get a little hectic.
#8 – The Little Drummer Boy
One other list that I contemplated was Top 10 Christmas songs, and "The Little Drummer Boy" would have been in the upper half of the list. I love the story of the poor boy who has nothing else to give the infant Jesus except for the gift of music. This is the most religious special on this list, but regardless of what your beliefs are, the message of the season is clear. The size or cost of a gift is far less important than the sincerity with which the gift is given. Give not because you feel obligated by a certain value, but give out of love. Pa-rum pum pum pum.
#7 – Emmett Otter's Jug Band Christmas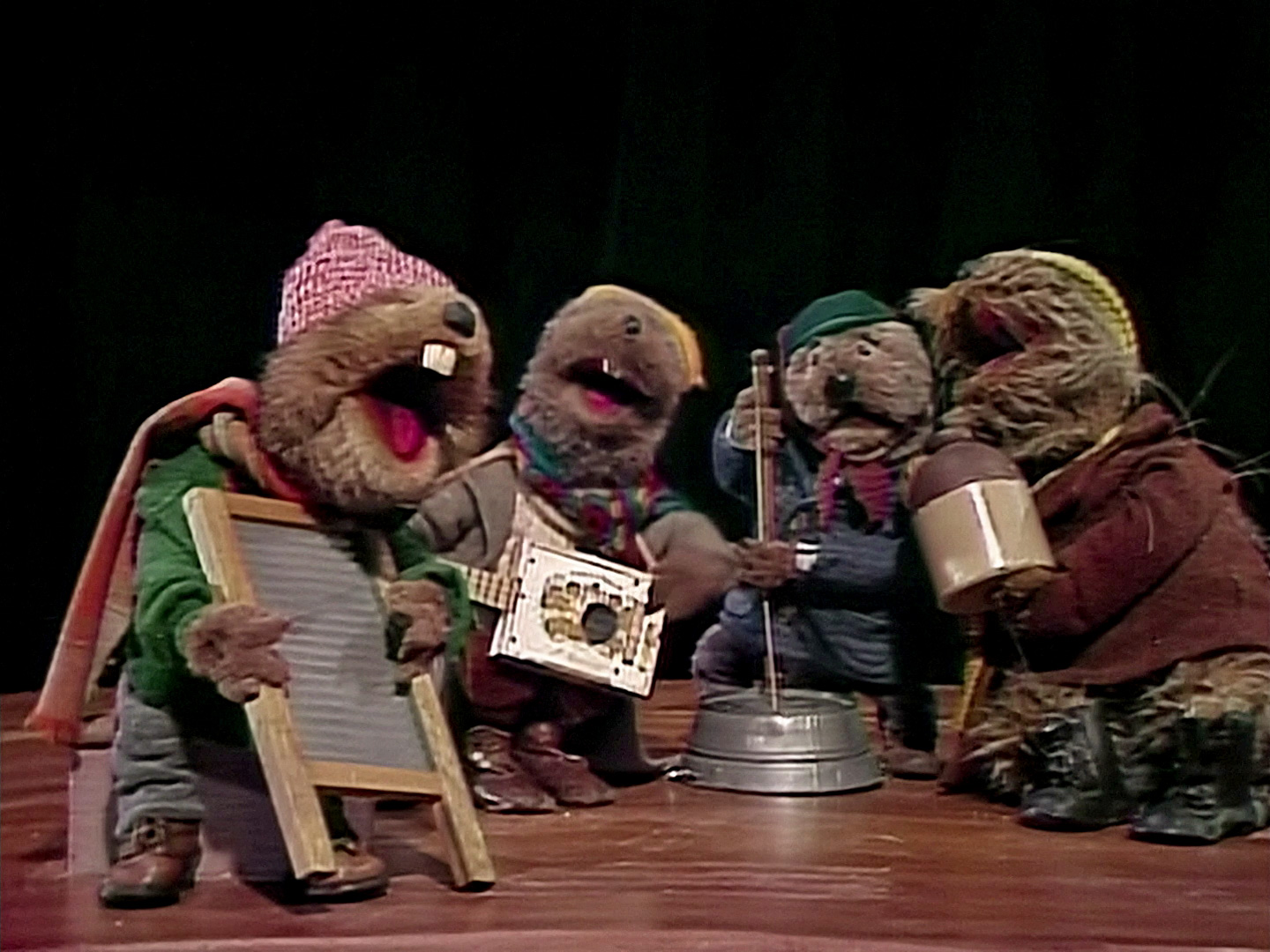 It's the Muppets, so right there, it's pretty awesome. Emmett and his mother scrape by, getting paid for handyman and laundry services respectively. Desperate to buy nice gifts for each other, they both secretly enter a talent contest, but in a nod to O. Henry's Gift of the Magi, Ma hocks Emmett's tools for a nice dress, and Emmett drills a hole in Ma's washtub to make a bass and join a jug band with his friends. Neither wins the contest because their acts were each missing something—and the somethings they were missing were each other. In the end, they perform together and get a steady gig, teaching us that family is more important than any present.
#6 – Frosty the Snowman
He really is a jolly happy soul! Frosty has such a lust for life and lives every day like it's his only day. Is that why he says, "Happy Birthday" every time the magic hat gets put on his head? Like he's reborn that day? The friendship between Frosty and Karen is touching—they'd do anything for each other. She'll take him all the way to the North Pole so he won't melt, and he sacrifices himself in the greenhouse to keep her warm. Admit it—as a kid, you got all teary-eyed when Frosty melted.
#5 – Santa Claus Is Coming to Town
This is the third (and not the last) Rankin/Bass production on the list. This one is a cute story explaining how Kris Kringle (voiced by Mickey Rooney) becomes Santa Claus, why he gave toys, why he comes down the chimney, why stockings are hung by the chimney, how reindeer fly, how he met and married Mrs. Claus, and other traditions and details like that. In the story, many of the reasons center around the blowhard Burgermeister Meisterburger and his ban on toys in Sombertown. The Burgermeister is a great villain, and there are some great songs, particularly "One Foot in Front of the Other."
#4 – Mr. Magoo's Christmas Carol
I'm not sure if they show this one anymore, but I vividly remember it from my youth. Myopic Mr. Magoo (voice of Jim Backus) bumbles around backstage before taking over the role of Ebenezer Scrooge. This theatre company has some pretty cool special effects, sets, and an expansive stage. For the most part, it's a straightforward adaptation of Dickens' A Christmas Carol, but a song that old Scrooge sings in the past with his younger self that has stayed with me for years. Here's a link to the song "Alone in the World." Listen to it and try telling me it's not poignant, beautiful, and worthy of the special's inclusion this high on the list.
#3 – How the Grinch Stole Christmas
One of Dr. Seuss' most beloved tales is beautifully presented in this special, with great animation by Chuck Jones and perfect narration by Boris Karloff. The full-length film came later, which I have never seen and still refuse to see. There's no way to improve upon the special. The imagery is iconic, from Cindy Lou Who catching the Grinch in a Santa suit taking away the tree and food, the reindeer-costumed dog almost falling over the cliff with the big bag of Christmas stuff, and the circle of Whos singing that makes the Grinch's "two sizes too small" heart grow that day. And again, there's a classic song in "You're a Mean One, Mr. Grinch" performed by Thurl Ravenscroft. Watch it here.
#2 – A Charlie Brown Christmas
Perpetual underdog Charlie Brown narrowly beats the Grinch. Both have great music, but I give a slight edge to Vince Guaraldi's score. Both have solid messages about the true meaning of Christmas, but again, I'm giving the edge to the Peanuts gang for the multiple layers of that message. This special deftly satirizes the over-commercialization of Christmas AND everyone rejoicing in the true meaning of Christmas. Charlie Brown's misfit tree is an iconic image, and it's great that the gang ultimately supports him and lifts up the tree. It's symbolic of them lifting up Charlie Brown himself, who started the special somewhat disillusioned. The special allows the characters to find the joy of the season in each other.
And finally, MY FAVORITE TV CHRISTMAS SPECIAL…
#1 – THE YEAR WITHOUT A SANTA CLAUS
Though this Rankin/Bass production doesn't have as strong a message as the two specials before it on this list, it has two things that no other special on this list has: Snow Miser and Heat Miser. Well, mainly Snow Miser, who's far cooler (get it?) than Heat Miser. Their introduction songs, which you can watch here, are all kinds of awesome. The rest of the story is fun too. Jingle and Jangle are goofy elves trying to see if the world still wants or needs Santa Claus, who's at the North Pole sick and contemplating cancelling Christmas. Eventually, Santa goes out undercover to find them and learns that kids would have a blue Christmas without him. The standouts are the miser brothers, and they eventually got their own special (which I haven't seen), but it can't be as good as this. The two of them are…well…too much.
Agree? Disagree? Comments, compliments, complaints? Fire away! And happy holidays!