Every summer, I run a game for my Facebook friends where I choose a decade and quote a different song every day. The first person to correctly name the song and artist get a point each, and at the end of the summer, the friend with the most points wins bragging rights. Been doing that for six summers so far.
In 2014, I started a year-end version of the game, where I count down my Top 10 favorite songs of the year but have my friends guess the songs. I usually do it on the Sunday between Christmas and New Year's Day, but since both fell on a Sunday this year, and thus there wasn't a Sunday between them, I chose to do it today.
The game just ended, so I can post my Top 10 Songs of 2016 here. Yeah, I know it's not the first day of the month when I usually post a Top 10 list. The Top 10 Books I Read in 2016 will be posted on January 1st as scheduled.
But enough about that list, let's do this one. Click on the accompanying image to link to the video on YouTube. Now to the countdown!
#10 – First, by Cold War Kids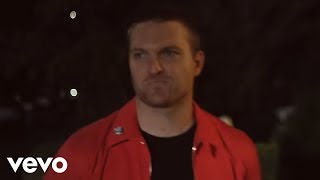 I start keeping track of songs for my top 10 in January. Though this song was released in 2015 (and it topped the Billboard Alternative Chart for seven weeks that fall), I don't remember it getting significant airplay on the radio stations I listen to until early 2016. The song rocks, and it was the first song I considered for the top spot. I can do that, no matter when the song was released because this is my countdown. For that reason, I thought it would be fitting to list it here…well…first.
#9 – Let Me Love You, by DJ Snake featuring Justin Bieber
If you had told me back when Bieber had his first hit that he'd eventually appear in my year-end top 10, then I'd have laughed loudly in your face. His first songs, like Baby, were not favorites of mine. But in 2015, that changed. What Do You Mean?, Sorry, and Love Yourself were much more mature than his earlier work, and they were catchy. Here in 2016, he was a featured artist a few times. I think his collaboration with Major Lazer, Cold Water, is also a great song, but the vulnerability coming through in this song is more impressive.
#8 – Something Wild, by Lindsey Stirling featuring Andrew McMahon in the Wilderness
I only heard this song once or twice on the radio, and if you were to search every "real" year-end singles countdown, you wouldn't find it. The song is featured in the closing credits of Disney's reimagined Pete's Dragon, one of the most wholesome family movies to come out in a long time. Andrew McMahon in the Wilderness, responsible for last year's #2 song Cecilia and the Satellite provide the perfect vocals to the immensely talented Stirling. Her violin solo in the middle of the song, accompanied by her steps and leg kicks (see the video), are the real star. She was a former quarter-finalist on America's Got Talent, rightfully so because she has extraordinary wild talent.
#7 – Heathens, by Twenty One Pilots
When the duo known as Twenty One Pilots first broke through with the song Stressed Out, I thought they were more like a novelty act than anything else. But then this, their third single of the year, was released. It's featured in the DC Comics movie Suicide Squad, and though I didn't see the movie and it got poor reviews, I can imagine how the song fits. The sound is ominous, and the lyrics even more so. But they sing the truth. We don't know if the person sitting next to us is a psychopath or not, just like they don't know that about us. It's a somewhat scary, hopeless thought, and the song just hangs it out there all the way to the final line's abrupt end.
#6 – Just Like Fire, by Pink
Another song featured in a 2016 movie, this one from Alice Through the Looking Glass. The movie wasn't that great—in fact it was far inferior to Alice in Wonderland. I'm a big fan of Lewis Carroll's original books, and I was disappointed. However, this song was not only the best thing about the film but also one of the best songs of the year. Pink often sings about female empowerment, and this may be one of the best, completely in line with Alice's story in the two Burton movies. This anthem is all about breaking that glass ceiling by being as strong and/or crazy as you've gotta be. After all, no one can be just like you anyway!
#5 – HandClap, by Fitz and the Tantrums
I've loved Fitz and the Tantrums since I first hear their song Moneygrabber a few years ago. They last appeared on this countdown in 2014 with The Walker, which I ranked at #4. They just have high energy beats, with limited use of guitars, and high energy lyrics. The vocals of Michael Fitzpatrick and Noelle Scaggs blend so well, making their soul-influenced songs so easy to sing along and dance to. You can have whatever interpretations you have about what it means to get someone's hands to clap, but it's undeniable that this song gets hands clapping.
#4 – Hands to Myself, by Selena Gomez
Here's another artist I didn't expect to see in my Top 10 list. I wasn't a fond of her 2015 song Good for You, but the two songs that followed were definitely better. Hands to Myself is hands down Gomez at her fun and flirty best. This song is playful and contagious, particularly when she gets to the line "I mean, I could but why would I want to?" There's a great build throughout the song, as instrumental elements are progressively added. Even her vocals build in speed, emotion, and intensity throughout the song, making it one fun ride.
#3 – Let It Go, by James Bay
Not the song from Frozen! Princess Elsa was letting go of hiding the magical baggage she had, whereas Bay is telling us to just leave things to the breeze and be ourselves. Okay, maybe the messages are the same, but this one is more subtle. Bay is a great musician, finally getting recognition here in the States. This is actually his debut single in the U.K. back in 2014, followed by the also great song Hold Back the River. They were released in reverse order in the U.S. starting in 2015, in time to score a Best New Artist Grammy nomination last year. I love the great imagery and theme in the song in lines like "I used to recognize myself / It's funny how reflections change." In the end, I was tossing up between the top three songs, and in another year, this could have ended up on top. I think 2016 was a great year for music, and it was hard having to let this one go down to #3.
#2 – Send My Love (To Your New Lover), by Adele
Adele is definitely a phenomenal vocalist. Her album 21 is outstanding, particularly singles Rolling in the Deep and Someone Like You (the song I named my #1 in 2011). When she released her most recent album 25 at the end of 2015, there was much excitement. The first single, Hello, perhaps due to being overplayed, just didn't do it for me. The second single, When We Were Young, worked for me even less. And then this song came out, and WOW! Like the best songs from 21, this song is a great kiss-off to an ex-lover, but in a more mature way. The parenthetical part of the title almost has a "you don't want me; she can have you" vibe without being too angry or profane. But what elevates this song beyond the message and lyrics is the calypso beat, giving it a rising-above feel. And it almost did rise to the top.
Before I get to MY FAVORITE SONG OF 2016, here are five Honorable Mention songs that just missed the Top 10:
Unsteady, by X Ambassadors – Featured in the film Me Before You, this song sounds exactly what it feels like to need someone to help keep you steady.
Cheap Thrills, by Sia – Fun dance song extolling how we don't need money when we have someone to go out with.
Scars to Your Beautiful, by Alessia Cara – Not just body positivity, but overall personal empowerment. No better you than the you that you are.
Starving, by Hailee Steinfeld and Grey, featuring Zedd – She's already been nominated for an Oscar. This fun song shows she's multi-talented.
Can't Stop the Feeling!, by Justin Timberlake – No one does dance music like J.T., and this track from the Trolls soundtrack was a summer smash.
And finally, MY FAVORITE SONG OF 2016…
#1 – CLOSER, by The Chainsmokers featuring Halsey
This was a great year for The Chainsmokers, and I legitimately enjoyed all three of their collaborations that charted. However, there's just something about this song that gives it much more staying power than their other songs—or any other song this year. It's got such an earwormy hook to it, and as soon as I hear it on the radio, I want to crank it up…and I can't stop. Why? I can't really explain it. Maybe it's the immensely singable chorus. Maybe it's that we hear both sides of the relationship, as the duo is aided by Halsey on female vocals. Or maybe it's the relatability of the song. We've all got that past love who got away, either by their choice or our own choice; then when seeing them four years (or however long) later, all those emotions rush right back like we haven't aged at all. I guess it's all of them, because in the end, no other song came closer.
Agree? Disagree? Comments, compliments, complaints? Fire away!