My next book, Skipping the Scales is scheduled to be released on July 14. It's the sequel to my Young Adult mermaid book Flipping the Scales. In celebration of the upcoming book, I'm declaring July 2016 as MERMAID MONTH here at the Stuff! Seems fitting for summertime, with more people on the beaches and in the ocean. So let's kick it off with a Top 10 list that fits that theme!
That's right, let's count down the Top 10 Mermaids!
To be eligible for inclusion on this list, the mermaid had to appear in any fictional medium: movies, television, books, etc. And though I have some mischievous mermaids on this list, I excluded any that were inherently evil. As fantastic as some of the real-life professional mermaid performers are, particularly those who use their platform to educate about conservation and preservation of our oceans and Earth in general, they won't appear on this list. Also, I won't be including characters from my own series because that wouldn't be fair to all the other mermaids.
So let's dive in!
#10 – Aquamarine, from Aquamarine
I haven't read the book, so I'm judging the character from the 2006 movie, as portrayed by Sara Paxton. There are probably differences between the book and the movie, and I'm really not the target audience of this movie…but my daughters are. Who am I kidding? I bought the copy for YA-mermaid research. Yeah, that's it. Anyway, Aqua leaves the ocean to escape an arranged marriage, and her father gives her three days to prove love exists. She meets best friends Hailey and Claire, who are spending their last summer together because Hailey will be moving to Australia with her mother. She also meets Raymond and totally crushes on him. Aqua is definitely naïve and a little self-centered, but the story's not about her. It's really about the bond between Hailey and Claire, and the mermaid acts as a catalyst for their friendship to grow.
#9 – Lia Nautilus, from Emerge, by Tobie Easton
Here we have the youngest entry on the list, as Easton's charming YA novel Emerge has only been out for a few months, but it's such a treat. Being a teenager at a new school is difficult enough, but adding to the complications is she's a mermaid who doesn't have full control of her legs yet. Oh yeah, and she's a direct descendant of a well-known little mermaid—yeah, that one—who caused all sorts of problems under the sea. And now the boy she's crushing on is under the spell of another new girl, who also happens to be a mermaid. What I like so much about Lia is that she's genuine and wants to do the right thing…even when the right thing to do is the wrong thing. She's a believable teen—mermaid or not—and this is a clever, engaging story. Read my review here. It's the first in a series (see that up in the upper right corner of the cover?), and I simply can't wait to see what new adventures are in store for her and what kind of personal growth she experiences.
#8 – Syrena, from Pirates of the Carribean: On Stranger Tides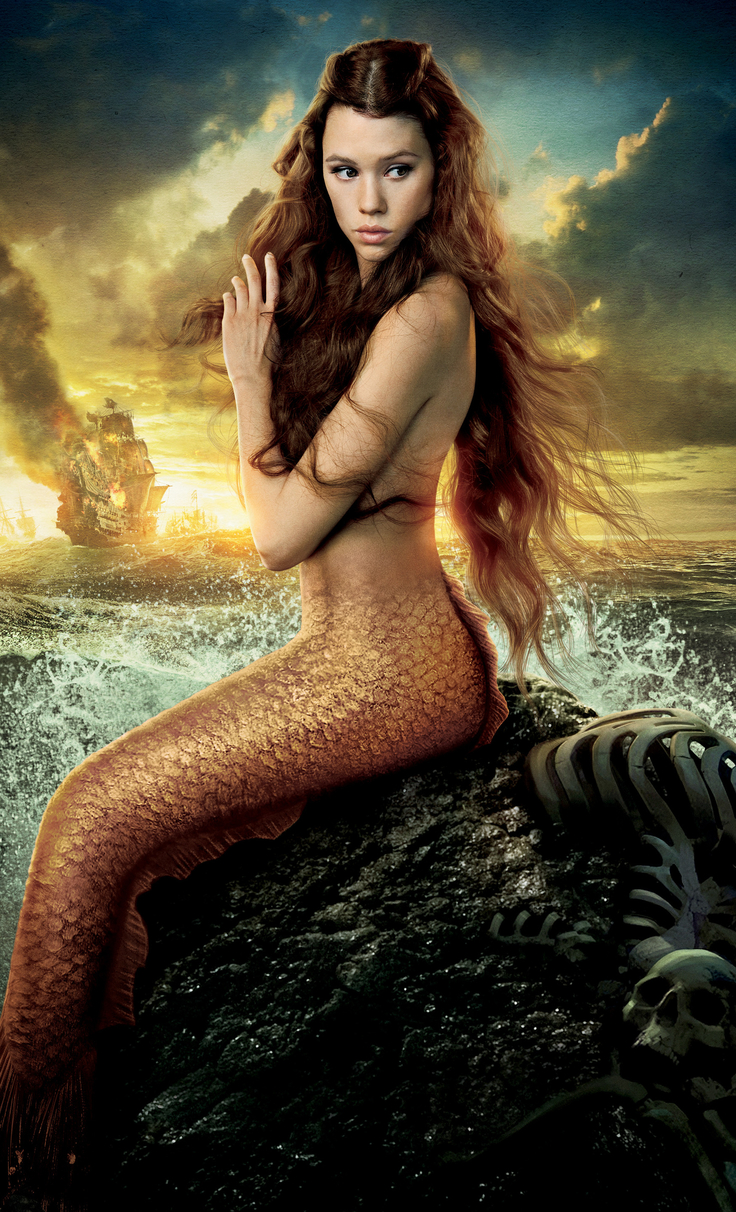 It was only a matter of time before the Pirates of the Carribean film franchise featured some mermaids. The 2011 fourth installment in the series is not the strongest, and the mermaids within are fierce and deadly. I don't mind mermaids that cause mischief, but not cold-blooded murder (even though the folklore includes tales of mermaids dragging men to their death in the ocean depths). Syrena, as played by Astrid Bergès-Frisbey, is the one exception. The poor mermaid is captured by Blackbeard and the others because her tear will activate the Fountain of Youth and blah blah blah. Syrena is the most sympathetic character in the movie, so much emotion conveyed just in her eyes. They bring her partway to the fountain in a tank they carry, and watching her inside is heartbreaking. And later, they leave her in what is essentially a big puddle with her wrists tied to a post so she can't go anywhere. So sad. But she does get a happy ending.
#7 – Fred the Mermaid, series by Mary Janice Davidson
Fredrika Bimm, or Fred as she prefers to be called, is far from the typical mermaid. First off, she's cranky. She swears. And she's not that great a swimmer—with her legs, anyway. This three-part series of pun-filled titles (Sleeping with the Fishes, Swimming Without a Net, and Fish out of Water) is a fun, quirky, not-YA read. I picked up copies several years ago for the very reason she makes the list—she's not the usual perky, optimistic, princess mermaid looking for love. She doesn't particularly care for the love triangle she finds herself in! She works at the New England Aquarium (Boston, woo-hoo!) and is spotted after-hours in the main tank in mermaid form by a new marine biologist working there. Naturally, he's smitten (I'd be). And then there's the merman Prince who wants her as his queen, and in typical Fred fashion, she hates that idea. At the time when I read the book, Fred was such a unique voice…and that made her completely irresistible and list-worthy.
#6 – Miranda, from Miranda
Apparently, 1948 was a banner year for mermaid movies! While America gave us Mr. Peabody and the Mermaid with Ann Blyth as Lenore (who just missed the Top 10, but check her out here), England brought us the more madcap Miranda, featuring Glynis Johns as the titular mermaid. In a nice reversal, it's Miranda who catches Dr. Paul Martin and in exchange for his freedom, she demands to be taken on land, where she poses as an invalid in a wheelchair and proceeds to have every man in the film fall in love with her! When I first learned about this film, I went to its Wikipedia page, only to have my jaw drop upon learning it was based on a play. Tracking down a copy of the script (which is out of print) and performance rights was a challenge, but I did. In 2007, I directed this show with my drama students, so it holds a very special place in my heart.
#5 – Selinne, from The Merminia Series, by Emm Cole
When I published my first book, I started reading other books with mermaids in them. One that I came across was Merminia by Emm Cole. I have since learned that high, epic fantasy isn't a genre I'm as interested in as YA speculative contemporary, but—BUT!—I was absolutely captivated by the character of Selinne. You can read my review of the first book here, where I clearly profess that Selinne would earn a spot on my list of favorite mermaid characters of all time. Well, here she is. Whenever the book focused on her, I felt comforted. She's kind, smart, delightful, and familiar though obviously fantastical. Even when hardened by war in the sequel Keeping Merminia (review here), she's a consistently calming force. The fact that this isn't due to an acting performance but instead due to written words is a testament to author Cole's creative talents. Her world is so vividly described that I could imagine myself there, and Selinne swam freely in my imagination.
#4 – Rikki, Cleo & Emma, from H2O: Just Add Water
All the other mermaids on this list were born that way, but Rikki Chadwick, Cleo Sertori, and Emma Gilbert (l-r) were normal human teenage girls. After being stuck in special water on Mako Island at the full moon, the next day they develop mermaid tails that appear ten seconds after getting wet. They also gain special powers: Emma can freeze water, Rikki can heat it up (useful to dry themselves off), and Cleo can telekinetically manipulate it. In this fun Australian 2006 kids' television series, they have to deal with not having their secret discovered and the usual teenage stuff like boys and cliques and school and boys. Additionally, Emma was a competitive swimmer but had to give it up because of her mermaid-ness. That's a story in and of itself which I wish had been further explored. My only complaint is that their tails appear no matter how much water touches them anywhere. I'll accept that getting their legs wet would reveal their tails, but not a single drop of water on the back of their hands! Despite those minor quibbles, the performances of Claire Holt as perfectionist Emma, Phoebe Tonkin as shy girl next door Cleo, and Cariba Heine as tough girl Rikki are charming. There's a spin-off show called Mako Mermaids, but I like the original better.
#3 – Ariel, from Disney's The Little Mermaid
Thought she'd be number one, didn't you? Let's face it, Ariel is not only the most iconic mermaid, she ranks up there among all Disney characters. The 1989 film started an era that Disney calls its Renaissance. After the box office and critical success of The Little Mermaid, Disney would go on to produce other modern classics like Beauty and the Beast, Aladdin, The Lion King, Hercules, Mulan, and Tarzan, to name a few. But it started here, an adaptation of Hans Christian Andersen's tale with the wonderful Ashman & Menken score—including songs like Under the Sea, Kiss the Girl, and Part of Your World. Some may complain that her feelings toward Prince Eric reek of Insta-Love (before that was a term); I say she just thought he was hot and wanted to get to know him better. Some may argue that she changes herself for the guy; I say she went for what she wanted the only way she could. Some may ask that if she could sign her name on Ursula's contract, why can't she write a note to Eric explaining the whole situation; I ask the same thing, and then I remember there'd be no plot otherwise. She's headstrong, independent, plucky, clever, and has so much wide-eyed optimism, that there's no way not to love her. Disney is considering a live-action remake starring Chloe Grace-Moretz as Ariel, and there's some online complaining that she's going to be blonde instead of a red-head. Sure, Ariel's hair is iconic, but the source material never specifies a hair color, and this animated classic isn't going anywhere.
#2 – Diana, Venus & June, from Mermaids
This 2003 television movie was broadcast in America on the then PAX network, and it was supposedly a pilot for a series that was never picked up. Such a shame, because the characters are distinct, fun, and there was some conflict between them. This movie starts with their father being killed by a fisherman, so Diana (Erika Heynatz) comes up on land—for the first time—seeking vengeance. Youngest sister June (Serah D'Laine) lives permanently on land where she works at an aquarium. There's tension between them! Free-spirited middle sister (Nikita Ager) embraces both worlds, performing as a mermaid in a tank at a local dive bar. DIVE bar, get it? Oddly, she wears a mermaid tail costume, even though getting her legs wet reveals her tail; is the costume form-fitted to her actual tail? Who knows? But the sisters have to work together, and there's action and romance along the way. If you can find a way to watch it, check it out.
And finally, MY FAVORITE MERMAID…
#1 – MADISON, from Splash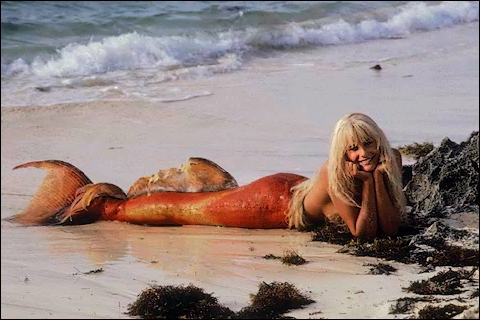 This is the first movie on this list that I saw—back when it came out in 1984—so I credit Splash with sparking my interest in the folklore of mermaids. Daryl Hannah was apparently so skilled at maneuvering in her costume that some crew members of the film were convinced she was an actual mermaid! Hey, she convinced 13-year-old me that she was real! It's a great romantic comedy starring a young Tom Hanks as unlucky-in-love Alan Bauer with a crass older brother played by the late John Candy. He eventually meets Daryl Hannah's girl-from-nowhere who doesn't have a name or speak at all. After a day of watching TV, she learns how to talk and eventually adopts the name Madison after a New York City street! Statistics show that the name Madison used for baby girls increased in frequency after this movie, supposedly because of the movie! Meanwhile, Eugene Levy's Dr. Kornbluth is trying to prove she's a mermaid, creating dramatic tension (and more comedy). When I eventually post an all-time Top 10 movie list, Splash will appear on it. There's current news about a remake of the film, and my thoughts on it are torn. Another mermaid movie? Awesome! But a remake of a classic? Not sure if it's necessary. But I read that it's more in line with the original script idea, which would have been told more from the mermaid's point of view, so I'm definitely going to see it.
Agree? Disagree? Comments, compliments, complaints? Take the plunge!