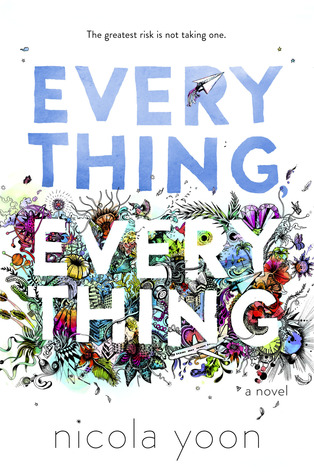 There's been buzz about this book and author since it first came out in 2015, and you may have seen previews for the recent film adaptation. Because of the high overall rating it has, I didn't hesitate to pick it up when I saw it for 25% off at a local supermarket. I figured I'd get around to reading it when I needed a story firmly based in reality.
The book tells the story of 18-year-old narrator Madeline Whittier, who suffers from severe combined immunodeficiency (SCID). Due to this disease, Maddie has a highly compromised immune system such that she can't fight off infections, allergic reactions, and so forth. It's basically the same kind of disorder that John Travolta's character had in the 1970s television movie The Boy in the Plastic Bubble, which was based on a real person living with the disease.
Because of the disease, Maddie is confined to her house with an air-filtration system to keep her healthy. She lives alone with her mother, a physician, and her father and brother died in an accident when she was quite young. Maddie spends much time with Carla, a private nurse hired to monitor Maddie's health and make sure Maddie stays on top of her schoolwork. She takes online classes and has infrequent visits from certain teachers (after they pass through a kind of air lock to get into the sterilized house).
Obviously, Maddie cannot venture outdoors without running the risk of getting sick, so her only way to experience the world is online and through books. Maddie has a well-developed relationship with books, and interspersed within her narration are short—like two-sentence short—book reviews that reflect her mood: hopeful at times, nihilistic at others, and everyone in between, but always with a touch of snark.
The format of this book is one of its many strengths. The short chapters, if some of them can even be called that, include the book reviews, Maddie's drawings, screenshots of online orders, and transcripts of instant messaging chats (more on that soon). I'm glad that I had a hardcopy of this book instead of a digital version to fully appreciate the layout.
Things change when a family moves into the house next door and she lays eyes on Olly. Clad in black, he does super-cool Parkour moves. (Don't know what that is? Look it up and be amazed, amused, and confused.) He's a complex character in his own right, going through his own family issues. They start a friendship through notes at each other's windows, email, and IMs. Then the friendship blossoms into something more—and the romance between them is sweet, believable, and swoon-worthy.
Here's the problem: with her medical issues, how can they have any kind of relationship? Maddie has to choose either staying in and living (as in literally staying alive) or venturing out and living (as in experiencing life). It's a wonderfully real theme to tackle whether you have Maddie's health issues or not. Every time any one of us is faced with a choice—a chance for something more—we weigh such issues. By framing it by this disease (and Olly's family problems) and through the vibrant character relationships, Yoon makes some powerful statements and asks readers to look inside themselves at the chances they took and/or didn't take.
However, there's a character revelation late in the book that didn't fully sit right with me, and I can't explain why without spoiling anything (which I shall not do). And I don't think it's necessarily anything Yoon did poorly in the conception and construction of the book. The character's motivation for doing it is solid, and in retrospect, hints are peppered throughout the book so it's not completely out of left field. How it's revealed is extremely well-executed in the sequence of plot events. The ultimate aftermath of it all leads to a truly heart-warming ending. Maybe my judgment of the character's actions is infecting my judgment of the plot. I don't really know, but it's something that interfered with my ability to give this book a full five stars.
But I'm gonna give it a five-star on the sites that don't let me give half-stars, and that's everything I can give it. Maddie's story made me smile, made me laugh, made me cry, made me angry, and left me hopeful. Is it immune to flaws? No, but I found very little to pull me out of the story because everything—everything!—else is beautiful enough to receive FOUR AND A HALF STARS.
- – -
Everything, Everything is available at Amazon.